Mobility Disruptors | Tesla Model 3 Launch in Europe
May 15, 2019
By Henrike Wagner and Theresa Abele
When the Tesla Model 3 arrived in Europe in February, sales jumped immediately. Tesla's latest addition to its lineup became the highest-selling electric vehicle (EV) in its first month.
That's a launch scenario every manufacturer dreams about, but can Tesla really satisfy mainstream needs and desires with its Model 3? Is the Model 3 able to reach a customer base beyond Tesla's early fanbase of EV Innovators and early adopters? Does this mean other manufacturers are losing the EV race?
Europe Electric Car Sales - February 2019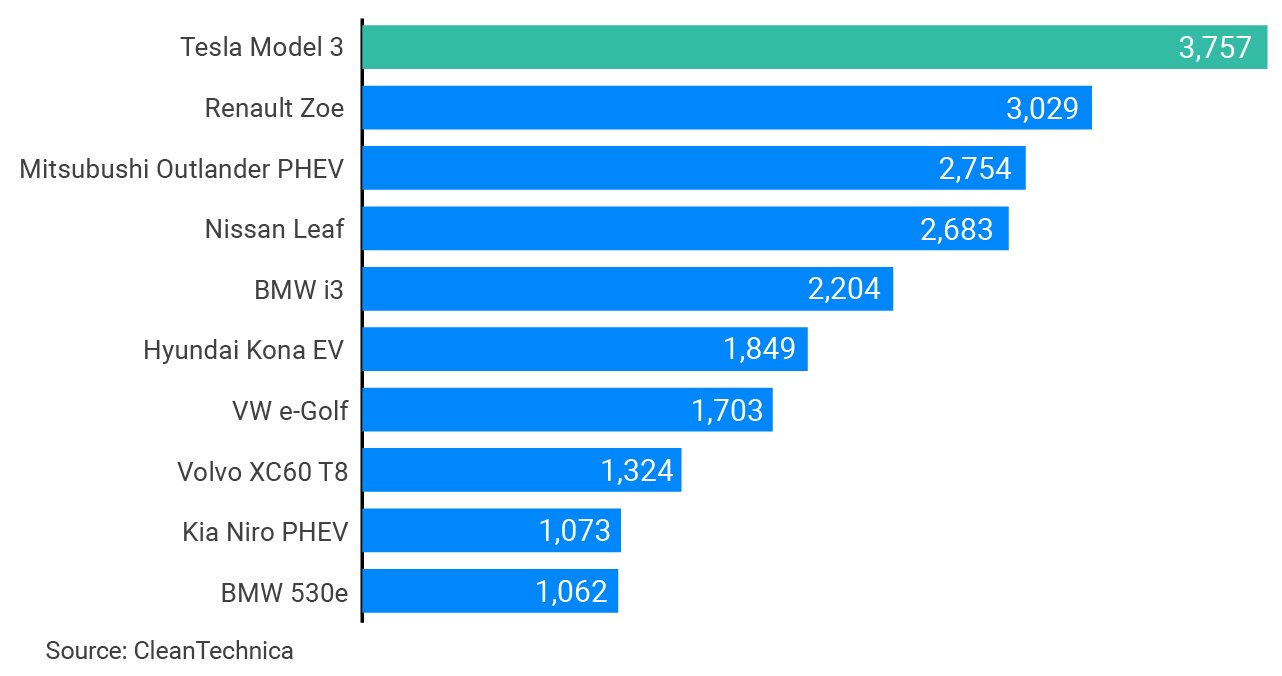 Immediately after the Model 3 sales launch in Germany, a team of J.D. Power experts met one of the very first customers in Europe. His enthusiasm and shining eyes when looking at his new acquisition were contagious! When asked about the one thing that could be improved on his vehicle, he responded: "Nahhh, the voice recognition is barely working, but I am sure it will after the next update!" This demonstrates Tesla customers' enthusiasm about the brand and embodies the "Tesla-mania" feeling of many owners around the globe.
The group of early adopters has detailed knowledge about their new vehicle with all its teething troubles but puts up with product flaws for the sake of an innovative product or feature. Tesla Model S and Model X customers can largely be assigned to the customer groups of innovators and early adopters who are highly intrigued by a product's innovative appeal.
Diffusion of Innovation

However, the third model in the Tesla lineup, the Model 3, is meant to address the early majority of EV owners. Tesla's strategy is to reduce the product price to make EVs accessible to a broader customer group. The exciting fact about this new customer group is that their needs and desires differ significantly from customer groups in the early stage of a product's innovation cycle.
The early majority is defined by their lower willingness to spend money on innovation and being less forgiving of technical problems. They're less intrigued by a product's innovative appeal. Additionally, compared to early users and real fans of EV innovation, they have less in-depth product knowledge. Thus, the product itself must be convincing. The Tesla Model 3 adds some promising notions to the world of electric mobility as it seeks to solve current pain points. Its range of up to 560 kilometers outshines almost all competitors on the market. With a price tag of 54,800€ on the long-range version, the Model 3 has a significantly lower MSRP than Tesla's previous models. The entry-level version available in the United States for $35,000 is planned to launch this summer in Europe. Additionally, Tesla plans to achieve 99% coverage for charging across Europe and will launch its third generation of superchargers by the end of 2019.
Driving range, purchasing costs, charging network and charging time are still the most prevalent EV pain points. If these points are resolved or accepted by the average customer, traditional mobility needs come back into focus: safety, design, usability, reliability, handling and quality, to name just a few. While the Model 3 tackles prevailing EV pain points relatively well compared with other competitors on the market, does it also clear the second hurdle of traditional mobility needs to become the segment leader? To answer that question, let's have a closer look. Sitting in a Tesla for the first time, most people are struck by the minimalistic interior, beginning with the sleek and innovative-looking design of a large 15-inch touchscreen and sleek glossy surfaces. The striking display is not a gimmicky feature; rather, it surprises with excellent response time controlling the infotainment system.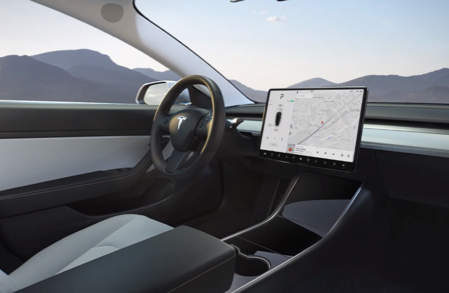 Source: www.tesla.com
However, on deeper exploration, one notices that this sleek impression is combined with the lack of some features. While the touch screen display has its advantages, it is the only operation method available for many features; voice control is operational for a limited number of use cases. The only physical buttons available are for window controls, door opener and steering wheel controls - and they lack any sort of labeling. For the steering wheel controls especially, operation while driving is further aggravated by the fact that the functionality changes based on the content selected in the infotainment system.
How would you most like to operate Heating/Air Conditioning?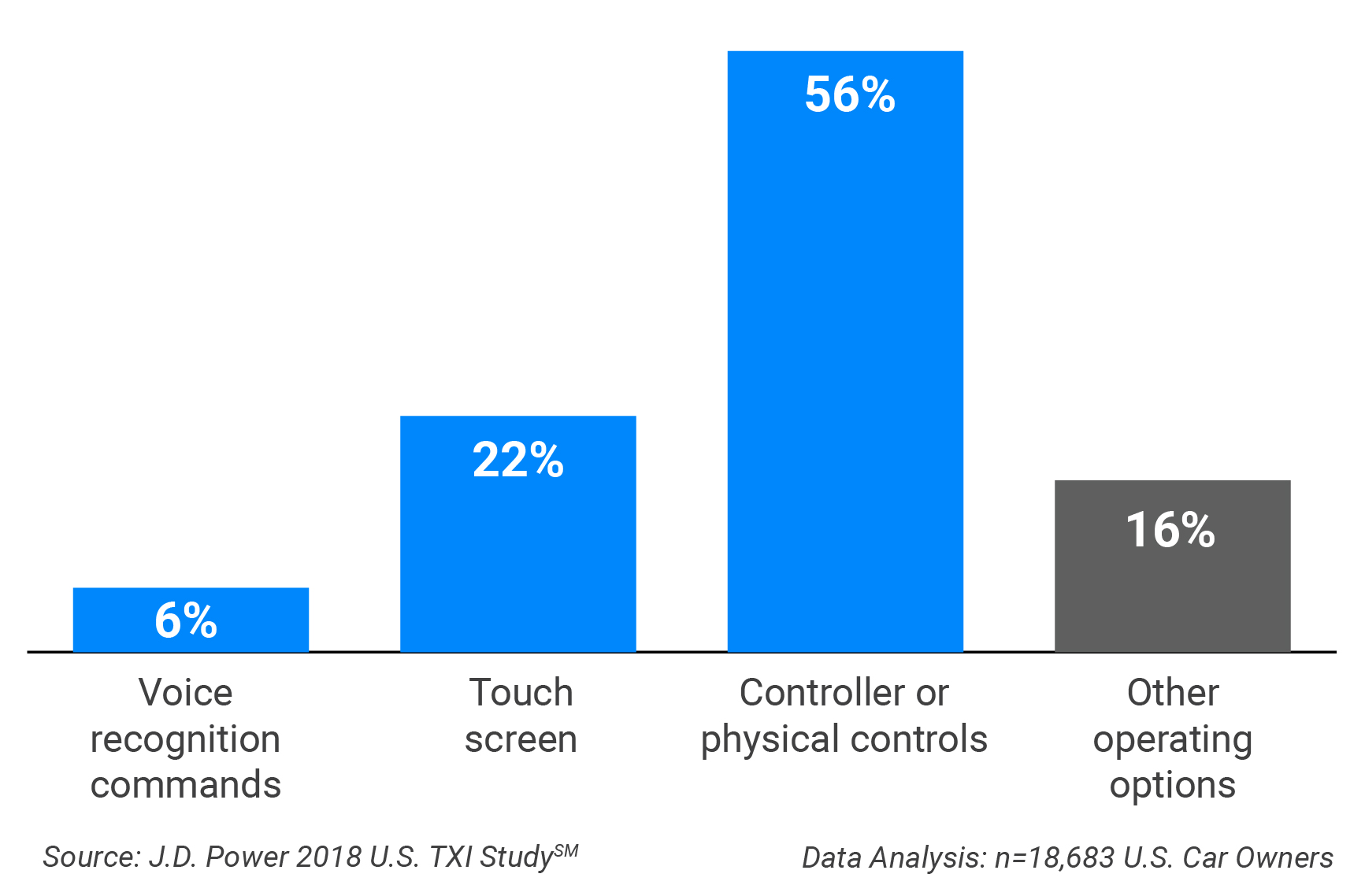 Most noticeable is the lack of an instrument cluster or head-up display in the driver's central field of view. This makes it quite difficult to use while driving. This exaggerated simplicity makes it difficult to perform basic interactions while driving, and blind operation without taking your eyes off the road is nearly impossible, especially for the less tech-savvy customer. This is confirmed by results from the J.D. Power 2018 U.S. Technology Experience Index (TXI) StudySM. Asked about a preferred operating procedure for an often-performed use case like climate control, most customers prefer physical controls while only 20% would rather operate climate functions via a touch screen.
Apart from exaggerated simplicity, Tesla struggles with gaps, poor fit and misalignment issues which are indicative of the brands relatively limited manufacturing experience. These types of problems are less pronounced among more traditional brands that are dealing with more software-related problems today. On top of that, the Model 3 still shows obvious design flaws, such as the trunk that gets wet when opening the trunk lid on a rainy day.
Nonetheless, Tesla is gaining momentum. The average customer currently still must overcome and accept the vehicle's diverse inadequacies. The winners in the EV race have not been announced yet–but the ones that do the best job in combining well-proven concepts with innovative EV problem-solving will be out front.
Experienced manufacturers will significantly expand their electrified model portfolio in the next few years. One is the "secret star" of the 2019 Geneva Motor Show, the urban EV Honda e. This year, Mercedes-Benz will extend its EQ ecosystem with the EQC, followed by a minimum of five models by 2021. BMWi fills up the gap in its model range with the i4, i5, iX3 and iNext. VW says it will build no more cars with pure combustion engines after 2026. And there is Polestar 2, the anticipated Tesla Model 3 fighter coming from the cooperation of Volvo and Geely. All these manufacturers can draw on decades of experience at fulfilling mobility needs. As soon as they achieve tackling EV pain points with their new product lines, they create a highly competitive situation for Tesla.
As alternative modes of transportation continue to create huge uncertainty for automakers and others, the need to understand how consumers want to travel now and, in the future, becomes critically important. In this fast-changing environment, J.D. Power is committed to providing automakers and other industry participants with critical consumer insights that will help them to develop a market-focused program for electrification.

Share on LinkedIn lang: en_US
To read more of the Mobility Disruptors publications, click here >
The information contained herein has been obtained by J.D. Power from sources believed to be reliable. However, because of the possibility of human or mechanical error by our sources, J.D. Power does not guarantee the accuracy, adequacy, or completeness of any information and is not responsible for any errors or omissions or for the results obtained from use of such information. 
This material is the property of J.D. Power or is licensed to J.D. Power. This material may only be reproduced, transmitted, excerpted, distributed or commingled with other information, with the express written permission of J.D. Power. The user of this material shall not edit, modify, or alter any portion. Requests for use may be submitted to information@jdpa.com. Any material quoted from this publication must be attributed to "J.D. Power Mobility Disruptors, © 2019 J.D. Power. All Rights Reserved." Advertising claims cannot be based on information published in this report.